About Winchmax
Winchmax has been designing,developing and producing commercial grade quality recovery winches for almost 10 years.
With over 30,000 winch sales throughout Australia, United Kingdom and Europe, Winchmax is proving to be the recoverers choice of winch .For both commercial recoverers and recreational 4 Wheel Drivers.
Winchmax's quality recovery systems provide both value and reliability.
Our winches are used in some of the harshest environments.
Winchmax winches are 'Guaranteed To Pull'
Winchmax WM13500 4x4 / Recovery Winch Technical Specification

Winch Dimensions and mounting holes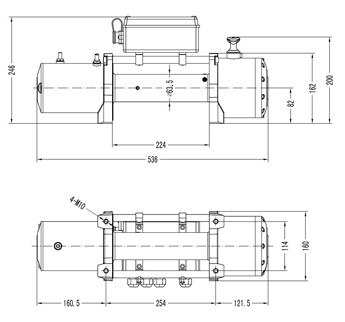 WM13500

Performance
12VDC
Single line rated pull
13500lb(6.123kg)
Motor
6.0hp/4.5kw,Series Wound
Control
Remote switch,12ft(3.7m)lead
Gear train
3 Stage Planetary
Gear reduction ratio
265.2:1
Clutch
Sliding Ring Gear
Braking Action
Automatic In-The-Drum
Drum size
Diameter 2.52"�(64mm) Length 8.82"�(224mm)
Cable
88ft of 3/8"� diameter (24m of 9.5mm diameter)
Fairlead
4-Way Roller Fairlead
Remote Control
Included
Battery
Recommended:650CCA minimum for winching
Battery Leads
2 gauge,72"(1.83m)
NW/GW
42kg/46kg
Overall dimensions
(LxWxH)21.3"x6.3"x8.6"(536x160x218mm)
Mounting Bolt Pattern
10.00�0.015"� x4.50�0.010"�(254x114.3mm)
MEAS
61x19.5x48.5cm(1pc)
Steel cable weight
42kg
Synthetic rope weight
29kg
Pull, Speed, Amperes, Volts (First Layer)

Line Pull (lbs./ kg)
Line Speed FPM(m/min)
Motor (Amps)
0
24.6ft (7.5m)
70
3000 (1363)
11.48ft (3.5m)
138
6000 (2727)
8.86ft (2.7m)
218
9000 (4090)
7.72ft (2.2m)
260
13500 (6123)
5.58ft (1.7m)
415
Line Pull And Rope Capacity In Layer

Layer
Rated Line Pull (lbs/kgs)
Total Rope On Drum (ft/m )

1

13500 (6123)

20.4 (6.22)

2

10010 (4540)

41 (12.0)

3

8840 (4009)

71 (21.0)

4

7410 (3361)

85 (24.0)